Hi. I use Löve 11.2. I have created a game.love file and created Android apk file using Löve-Android-Sdl2 (source:
https://love2d.org/wiki/Game_Distributi ... rom_source
). When I looked inside of the apk file then I saw that the apk file contains my
game.love
file in
assets
folder. Here is image: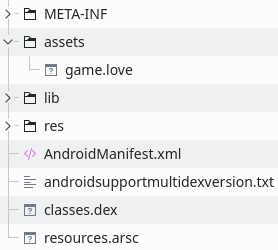 Users can know my Lua codes if they access game.love file. Is there a way to compile Löve2d project for Android without game.love (I mean the apk doesn't contain
game.love
file)? Thanks.