Virulent
is a turn-based tactical game where you are in charge of managing a global viral outbreak, and if you are lucky, save the world. You use action points to manage the outbreak. Your task is to launch missiles to prevent any more infections, while administering remedies to infected countries and cure them.
This is a remake of the Atari game "Epidemic!" by Steven Faber (1982).
This code, the game art, the music and screen layouts are my own work.
Screenshots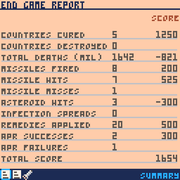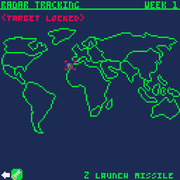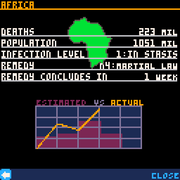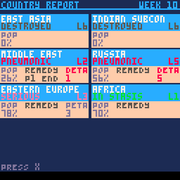 Get It
The LÖVE version is attached below.
Instructions
Mute
Press `control` + `m` to mute/unmute audio.
Full screen
Press `alt` + `return` to toggle full screen.
Controls
To highlight a country, choose a remedy or select an asteroid:
`up`, `down`, `left`, `right` arrow keys.
Actions
To open country details or press a toolbar button:
Press the `X` key.
Shortcut key
Press the `Z` key.
On all screens you can use the `Z` key as a shortcut instead of using the toolbar.
- On the Regional screen, it opens the remedy screen if a remedy can be applied.
- On the Remedy screen, it applies the selected remedy.
- On the Radar screen, it launches a missile.
- On the Command screen, it ends the turn (only when no more actions can be performed).
The Toolbar
The toolbar is located at the bottom of the screen. Use the arrow keys to highlight a button, and `X` to press it.
On the Command Station screen, press the `down` key to focus the toolbar at the bottom. To return to country selection, press the `up` key.
Instructions are in-game. Choose the Help toolbar icon to read them.