Greetings,
I am in the process of porting my own game,
Veins of the Earth
to LOVE.
Semi-obligatory pic of what the game looks like, before porting: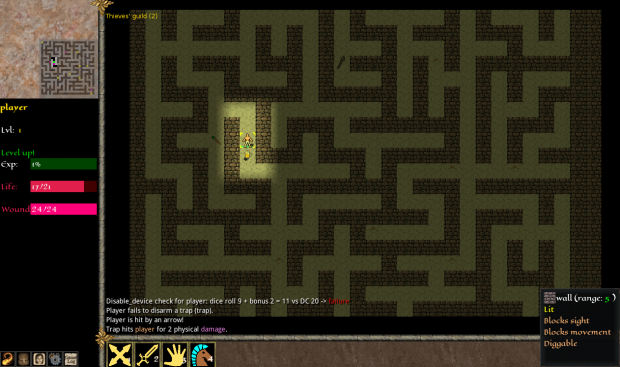 The game was originally written for T-Engine (te4.org), an open source roguelike engine which also uses Lua.
The main reason I am porting is smaller engine filesizes as well as less files/folders to manage (T-Engine has multiple subfolders) while a LOVE install is all contained in one folder. To put it in perspective, a standalone version of my game so far, stripped of everything optional (mods etc.), is 100 MB on disk while my own game's code and assets are 20 MB. LOVE engine is less than 7 MB, making the hypothetical working folder 30 MB, and the standalone executable will be even smaller because of compression inherent to .love files.
As fas as I can tell, LOVE offers everything that T-Engine does (shaders? check. framebuffers? check. particles? check.)
The game is a 2D roguelike, using tiles mainly (ASCII as fallbacks and/or a toggleable display mode). Heavy use of GUI such as buttons, tooltips, panels etc. Multiple font support, including obscure Unicode characters (think male sign or Cyrilic letters, not CJK). Maps are randomly generated so STI is not an option unless one can generate a random map with Tiled

Also maps can sometimes be smaller than screen, but can also be much bigger.
What do you think would be useful in porting the game? Any LOVE-specific tips you can share? What libraries (especially LOVE libraries) should I look at?